FREE Website Design - Essex
Wednesday, 6 June 2018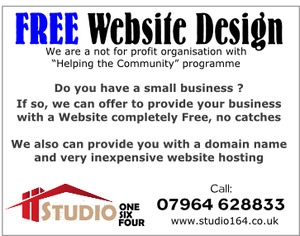 Contacts

Barrie Bowdler

07964628833
Item description
Summer is almost here to time once again to offer my FREE Website Design service as part of my "Help in the Community" project for any "work-from-home" business, small business, non profit making Club, Association, small Charity or Trust.
If you would like a professional looking website to represent your business or service or have one which is in need of modernisation then please give me a call on 07964 628833 or see all the details at www.studio164.co.uk
My website design service is entirely Free, no catches or additional costs. All I ask when the website is completed is to ask you to make a voluntary donation to a local dog rescue and re-homing service based in Billericay, Essex, my work helps them tremendously.